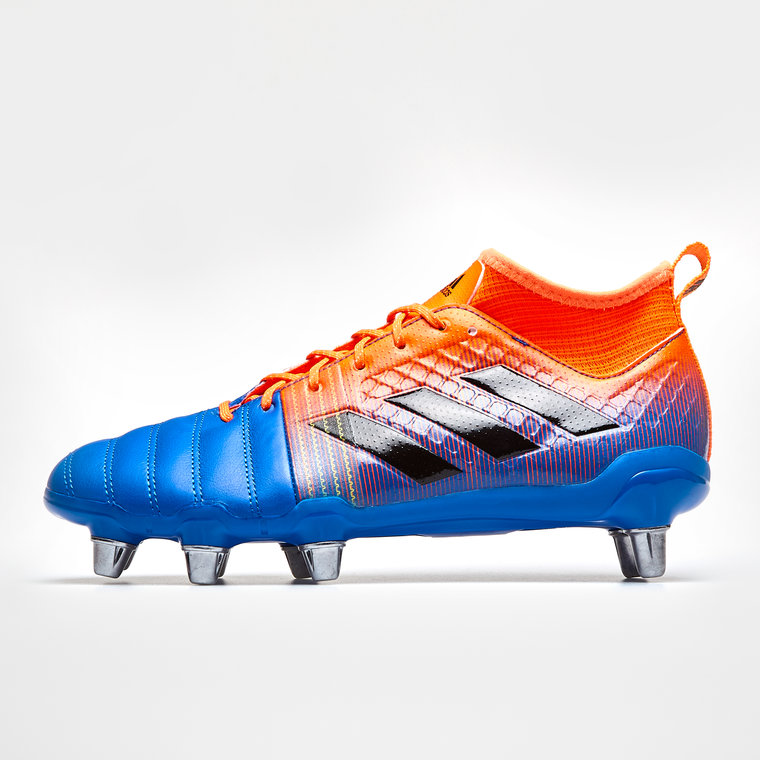 Adidas Kakari X Kevlar 2 SG Rugby Boots BLUE/ORANGE - 2019
Regular price £170.00 £120.00 | You Save £50.00 (29%)
Kevlar Support Tapes enhance foot lockdown and stability when scrummaging.
Premium Synthetic midfoot to rearfoot.
Lightweight and strong to provide enhanced stability and durability.
Kevlar Lace loop allows for ease when stepping into the boot.
Booty Construction for adaptive fit and optimal support.
Provides the comfort and feel of a low cut boot with the added support from the comfortable mid cut neoprene ankle section which also helps to keep out dirt and water from inside the boot.
Kevlar Laces provide optimal durability and strength.
6 x 2 traditional rugby 8 stud outsole for optimal traction while scrummaging.
Premium Leather toe box for supreme comfort and feel.
Adipower Replacement Studs (BQ0701)
Provide ultimate lightweight grip and traction in wet conditions.
Heel raise for dynamic foot position.
Outsole made from Pebax, a very strong and lightweight material perfect for a dynamic forward.
Always tighten studs before use.
For use on soft natural turf only, do not use on firm or hard ground.
FOR ALL QUERIES REGARDING DELIVERY AND RETURNS PLEASE USE THE 'DELIVERY AND RETURNS POLICY' PAGE, THIS IS LOCATED ON THE FOOTER OF OUR WEBSITE. ALTERNATIVELY PLEASE EMAIL fentonsportscare@outlook.com
Adidas Kakari X Kevlar 2 SG Rugby Boots BLUE/ORANGE - 2019