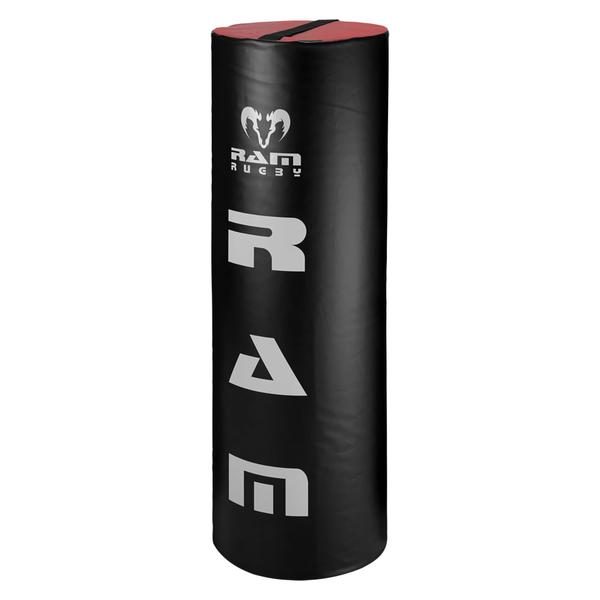 RAM TACKLE BAG
Regular price £185.00 Sale
EXTRA SHIPPING FEE MAY APPLY ONCE ORDER IS PLACED - YOU WILL BE CONTACTED VIA EMAIL. 
Ram Rugby Tackle bags are constructed of one piece high density foam and have a durable, water resistant PVC outer skin.

Our recommendations are that the Mini is suitable for children aged 7-8, the Junior is suitable for children aged 8 upwards, and the Intermediate is suitable for children aged 12 upwards and womens rugby. We recommend the Senior for both mens and womens adult rugby, and the Rambo for adult and professional rugby (but please check with your club or coach for personal advice). 
Please be aware the Rambo size is Made to Order and will take 7 weeks to arrive.
Specification:
Made in the UK
Velcro outer skin for replacement and cleaning
Straps on top and bottom to assist with carrying and prevent the Tackle Bag being dragged and damaged
Colour: Black / Red
Sizes with dimensions and weights
Rambo - 152cm height x 46cm width - 30kg
Senior - 137cm height x 46cm width - 

20kg

Intermediate - 132cm height x 41cm width - 15kg
Junior - 122cm height x 36cm width -10kg
Mini - 115cm height x 33cm width - 8kg
FOR ALL QUERIES REGARDING DELIVERY AND RETURNS PLEASE USE THE 'DELIVERY AND RETURNS POLICY' PAGE, THIS IS LOCATED ON THE FOOTER OF OUR WEBSITE. ALTERNATIVELY PLEASE EMAIL fentonsportscare@outlook.com